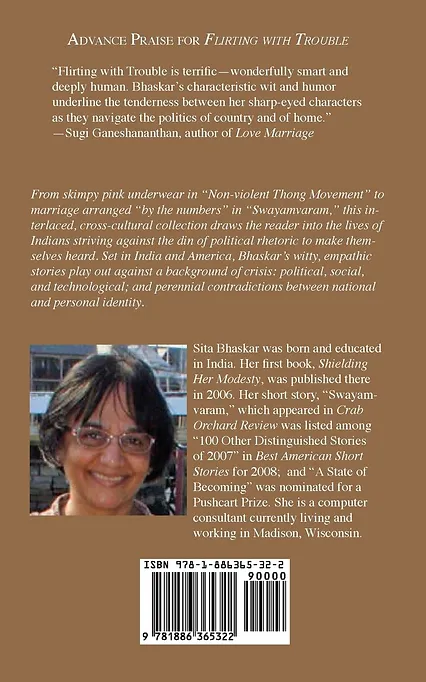 Flirting with Trouble
Engaging stories that illuminate the contradictions and beauty of the Indian experience. Bhaskar writes with subtlety, wit, and strength in these excellent pieces, particularly when pointing out the Orwellian nature of power and its narratives.
- Kirkus Reviews
---
Flirting with Trouble is terrific - wonderfully smart and deeply human. Bhaskar's characteristic wit and humor underline the tenderness between her sharp-eyed characters as they navigate the politics of country and of home.
- Sugi Ganeshananthan, Author of Love Marriage
---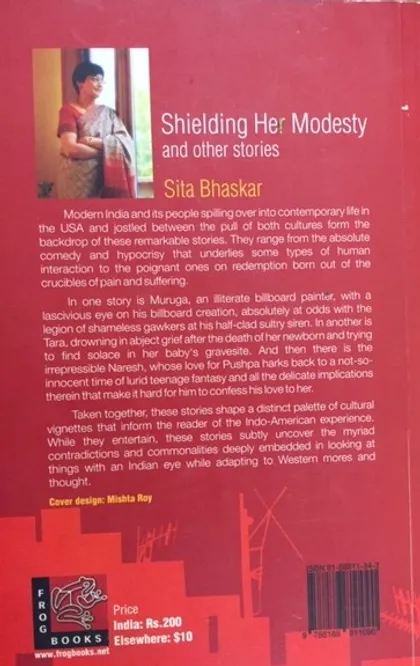 Shielding her Modesty
Bend it like Bhaskar. Enthusiastic viewers of Bend it like Beckham and The Monsoon Wedding will revel in Bhaskar's wit, finesse, and empathy. Bhaskar's narrators speak for no one-self, the Indian community or the American, higher authority, or a disciplinary consensus, though she is versed in anthropology as well as the poetics of comedy.
- David Lee Rubin, Virginia Quarterly Review
---
Human nature and situations are so diverse that it's impossible to provide them with convenient labels or place them in predictable slots. Take Muruga, the billboard painter in Shielding her modesty. He loves his wife but is possessive about the female forms he paints. When a group of youths begins to ogle at his unfinished painting he covers it with his brand new lungi. Shades of RK Narayan? Perhaps, but the story is enchantingly original. In The Bharati Doll, despite the Dickensian ambience, we're shown a glimpse of the fantasy-filled world of two child labourers, eight years old Parvati and her brother Gopi. In contrast to these poverty ridden scenarios is the middleclass home of Sunanda and Ganesh in The pink silk sari. Their son marries an Indian American girl named Kalpana. One expects the usual east versus west clash of values drama, but is pleasantly surprised to find understanding and accommodation instead. Other stories in this collection too are in similar vein.
- Randeep Wadehra, Tribune