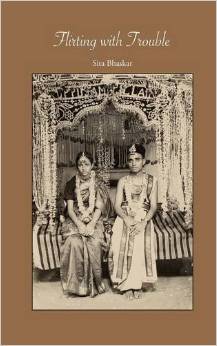 Flirting with Trouble
When Bina fills her suitcase with pink underwear and flies to India to combat the anti-Valentine's Day rhetoric of Hindu fundamentalists, she feels like Mahatma Gandhi going to Buckingham Palace in homespun loincloth to demand independence. One non-violent revolution in a homespun loincloth; seventy-five years later, another non-violent revolution in a thong.
From pink thongs in Non-violent Thong Movement to marriage by numbers in Swayamvaram where brides and grooms are plucked off the streets on the political whim of a capricious Chief Minister to the small leap between a consensual affair and sexual harassment in Bank on it, this intricate cross-cultural collection draws the reader into lives of men and women who strive to make themselves heard amidst the shrill political rhetoric that threatens to drown them out.
Set in India and America, the interlaced stories in Flirting with Trouble are woven through several significant events – National Emergency and loss of civil rights in India in the seventies, riots after the assassination of Prime Minister Indira Gandhi by her bodyguards in the eighties, the buzz of the internet boom in the nineties, contradictions about national and personal identity in the new century.
---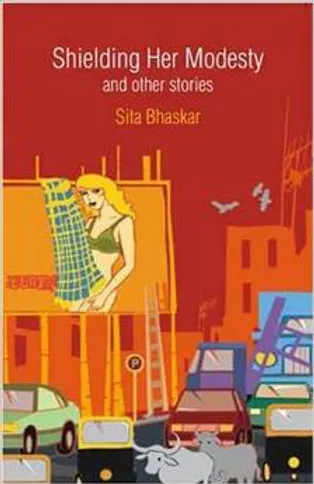 Shielding her Modesty
Modern India and its people spilling over into contemporary life in the USA and jostled between the pull of both cultures form the backdrop of these remarkable stories. They range from the absolute comedy and hypocrisy that underlies some types of human interaction to the poignant ones on redemption born out of the crucibles of pain and suffering.
In one story is Muruga, an illiterate billboard painter, with a lascivious eye on his billboard creation, absolutely at odds with the legion of shameless gawkers at his half-clad sultry siren. In another is Tara, drowning in abject grief after the death of her newborn and trying to find solace in her baby's gravesite. And then there is the irrepressible Naresh, whose love for Pushpa harks back to a not-so-innocent time of lurid teenage fantasy and all the delicate implications therein that make it hard for him to confess his love to her.
Taken together, these stories shape a distinct palette of cultural vignettes that inform the reader of the Indo-American experience. While they entertain, these stories subtly uncover the myriad contradictions and commonalities deeply embedded in looking at things with an Indian eye while adapting to Western mores and thought.